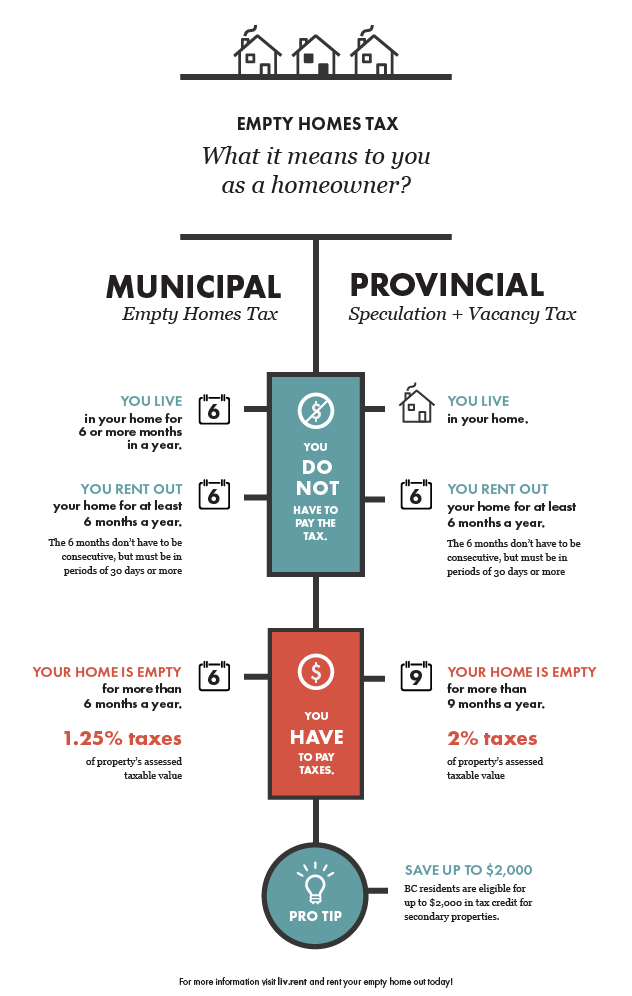 As part of a 30-point plan to help alleviate the housing crisis, the Province of British Columbia has imposed a speculation and vacancy tax hoping to turn vacant, under-utilized properties into homes for people living and working in BC. For Vancouverites, this is in addition to the civic Empty Home Tax levied for the same reasons. Though the intent of these taxes is noble, the implementation has proven confusing and controversial so we will try to demystify them for you. Read on for full details and an infographic breaking it down.
Will my home be taxed?
Yes, if your home is listed as your principal residence and it is unoccupied for more than 6 months by you, your family or a tenant.
Am I exempt from this tax?
99% of British Columbians will be exempt from both of these taxes. The exemptions are granted if:
You as the owner, or a family member or friend, or other permitted occupier makes the property their principal residence for at least six months of the 2020 tax year
The property is rented for residential purposes for at least 6 months of the current year in periods of 30 or more consecutive days
If you are still unclear, answer this questionnaire developed by the Province to determine your eligibility for exemption.
How is Principal Residence Defined?
Simply stated, a principal residence is the place where you make your home, live your life and pay your bills.
For the purposes of the Vacancy Tax, an owner can only have one principal residence and, if asked to verify their claim through an audit, you will have to provide acceptable evidence including:
Income tax returns
Your driver's licence or other pieces of identification
Insurance documentation
Medical Services Plan documentation
Vehicle registration
Employment contract
What amount will I be taxed if I am not exempt?
Provincially, the speculation and vacancy tax rate varies depending on you, the owner's, tax residency and whether you are a Canadian citizen or permanent resident, or a member of a satellite family. It will be levied on owners who own the property on December 31 of each taxation year and the highest tax rate will be levied on those with most limited social and economic ties to BC (i.e. foreign owners and satellite families).
For 2018, the provincial vacancy tax was levied at:
0.5% of the property's assessed value for all properties subject to the tax
For 2019 and subsequent years, the tax is levied at:
2% for foreign owners and satellite families
0.5% for British Columbians and other Canadian* citizens or permanent residents who are not members of a satellite family.
And, civically, in Greater Vancouver, the rate of the Empty Home Tax will be 1.25% of a property's assessed taxable value for 2020 and 3% for 2021.
Will I have to pay both taxes?
If you own residential property in Greater Vancouver (as defined in Section 1.2, of the Vacancy tax by-law), and your property is empty for more than 6 months, yes, you may have to pay both taxes.
How do I legally avoid this tax?
That's easy – rent out your place! If you are a new or inexperienced landlord, it may seem like a daunting venture but it doesn't have to be. The liv.rent app, for example, makes it easy to rent and manage your properties directly anywhere, anytime. Create a landlord profile, upload your property details and peruse verified tenants and invite them to submit an application or wait for them to express interest or to apply to rent your vacant property. You can issue tenancy applications and collect rent through the app too!  Yes, it is that easy.
How do I submit my property declaration and payment?
You will have to declare your property status to the province and to the city if applicable.
The province will send you a speculation and vacancy tax declaration letter in the mail by mid-February listing all the residential properties you own and outline how to complete your declaration and claim applicable exemptions. It must be completed by March 31 each year, regardless of whether you are eligible for exemption or not. Again, most British Columbians will be exempt from the tax.
In Greater Vancouver each year, every property owner must submit a property status declaration to determine if you are subject to the Empty Homes Tax. If you fail to declare your residential property status by February 2, 2021, the tax will be applied. Payments are due April 16, 2021.  You can submit your declaration on-line here.
Where can I find more information?
For additional information, please visit the provincial and City of Vancouver websites.
---
To begin creating, managing, and sharing listings as a landlord, download the liv.rent app from the App store or the Google Play store or sign up here from your computer.
Gain comprehensive insights about your listings with the new liv.rent Landlord listing Dashboard. Sign in to unlock live insights – find out the average rent for a comparable property, number of views your listing received and more!